This year's summer term of the Kyu Exam of the I.K.O. Matsushima Kyokushinkaikan Croatia for clubs Domenica and Fortis were held on June 7th in Samobor and on June 8th in Sveta Nedelja.
First day after the exam for the higher belt passed:
Children's 3rd Kyu – Michael Tuk , Nika Šemeš, Alen and Mateo Ćosić (Domenica)
Adult's 9th Kyu – Tihana Jagodić (Fortis)
Adult's 5th Kyu – Dominik Stanić (Fortis)
Adult's 2nd Kyu – Bruno Stojanović (Domenica)
Photo: Michael, Nika, Alen and Mateo (first line), Bruno, Dominik and Tihana (second line) after their Kyu Exam on June 7, 2019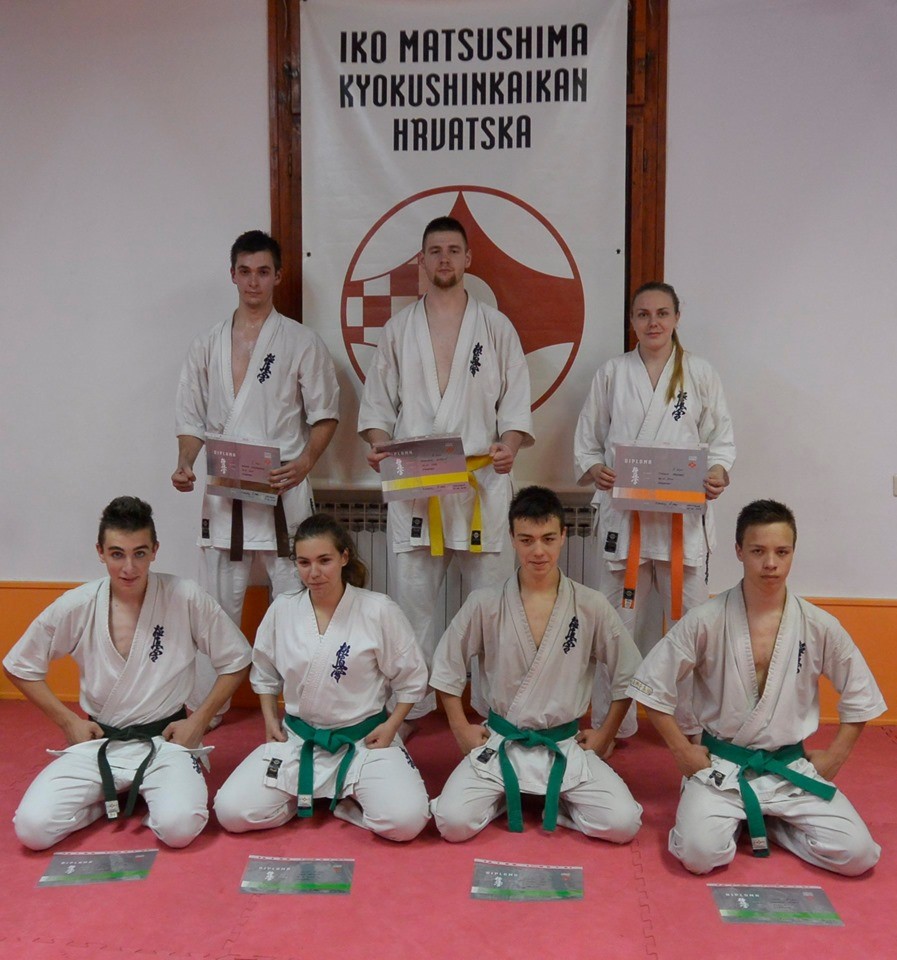 On second day for the Children's 10th Kyu passed: Ivan Mahovlić, Noa Paska, Ema Petravić, Josip Dupin and Rebeka Vučković (Fortis).
Chidren's 9th Kyu passed: Marija Kuhar (Domenica) and Marija Pađan (Fortis).
Photo: Ema, Rebeka, Ivan, Noa, Marija P., Marija K. and Josip after the Exam
Chidren's 8th Kyu passed: Luka Jarnjević and Iva Brezovec (Domenica), Rea Jakopec, Lukas Štulec, Iva Škvarić, Tea Škvarić and David Modrić (Fortis).
Chidren's 7th Kyu passed: Luka Marinčić (Domenica), Ivan Tomljanović, Leonard Oblak, Klara Oblak and Viktoria Štefović (Fortis).
Chidren's 6th Kyu passed: Kala Jurak and Jerko Jalšovec (Domenica), Lea Mikulić and Lucija Borovec Kerman (Fortis)
Chidren's 5th Kyu passed Lana Marić (Fortis).
Photo: Iva Š., Tea, David, Luka and Iva B. (first line), Klara, Viktoria, Leonard, Luka, Ivan (second line), Lana, Kala, Jerko, Lucija and Lea (third line) after the Exam
Congratulations to all!
More photos you may see on FB page Karate Kyokushinkai Croatia.