International Open Kyokushin Karate Tournament 16th Domenica Cup was held in the city of Sveta Nedelja on March 9, 2019 in organization of I.K.O. Matsushima Kyokushinkaikan Croatia and Kyokushin Karate Club Domenica Sveta Nedelja.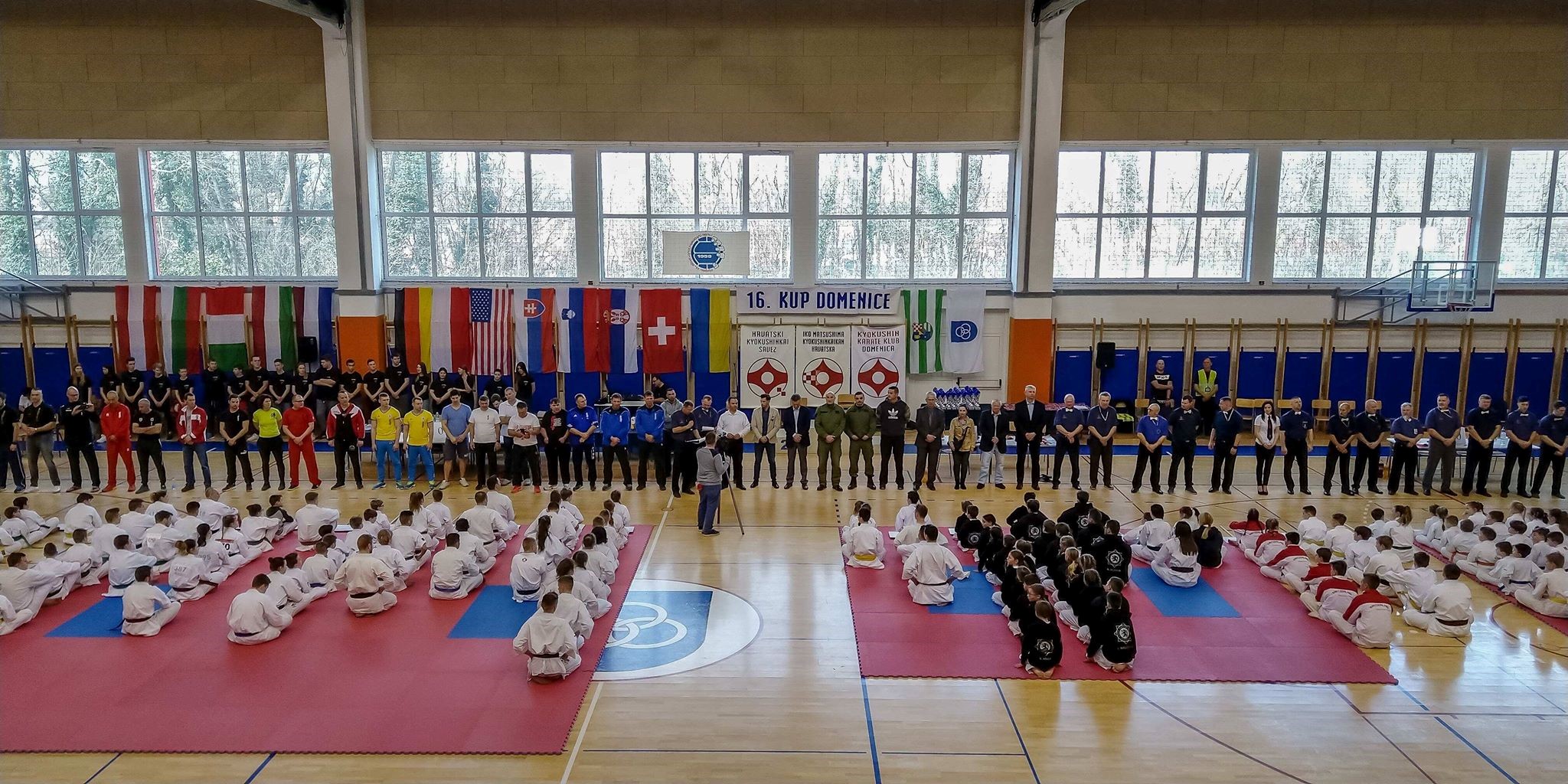 The main sponsor of the tournament were the Mayor of the city of Sveta Nedelja Mr. Dario Zurovec.
On tournament participated:
36 teams of different Kyokushin organization and other styles of martial arts with total number of 220 competitors from kids to adults
58 competitors in 8 categories of Kata competition
185 competitors in 36 categories of Kumite competition
13 countries (Austria, Germany, Holland, Hungary, Italy, Poland, Slovakia, Slovenia, Serbia, Switzerland, Ukraine, USA and Croatia)
Many thanks to all who have made this tournament so good!!
More photos see on our Facebook profile: Karate Kyokushinkai Croatia
See you next year on the 17th Domenica Cup!
Results of the 16th Domenica Cup:
KATA
Boys 2012/2009
Laszlo Bene – Warriors Team Hungary
Luka Kucan – Domenica Sveta Nedelja Croatia
Zente Garamszegi – Warriors Team Hungary
Adam Baranya – Kisujszallasi SE Hungary
Girls 2012/2009
Kata Szokonya – Warriors Team Hungary
Julijana Golubić – Domenica Sveta Nedjelja Croatia
Lucija Borovec Kerman – Fortis Samobor Croatia
Laura Bućan – Domenica Sveta Nedelja Croatia
Boys 2008/2005
Armand Balogh – Kisujszallas SE Hungary
Alen Ćosić – Domenica Sveta Nedelja Croatia
Borna Ivančić – Mas. Oyama Zagreb Croatia
Tamas Grob – Warriors Team Hungary
Girls 2008/2005
Virag Kocsis – Seiken STKE Hungary
Julia Pobidel – Wyciszkiewicz Dojo Poland
Barbara Jurinec – Domenica Sveta Nedelja Croatia
Aleksandra Wyciszkiewicz – Wyciszkiewicz Dojo Poland
Boys 2004/2001
Miklos Maj – Seiken STKE Hungary
Bruno Stojanović – Domenica Sveta Nedelja Croatia
Levente Magyar – Karcagi SE Hungary
Laszlo Kalocsai – Satoraljaujhely Hungary
Girls 2004/2001
Boglorka Lucson – Seiken STKE Hungary
Eszter Kocsic – Seiken STKE Hungary
Magdalena Siudek – Wyciszkiewicz Dojo Poland
Kamila Nalberska – Wyciszkiewicz Dojo Poland
Man 2000>
Andras Susko – Satoraljaujhely Hungary
Luka Sekelj – Fortis Samobor Croatia
Gyorgy Raczko – Kisujszallasi SE Hungary
Tomislav Božić – Fortis Samobor Croatia
Woman 2000>
Simone Gyarmati – Karcagi SE Hungary
Ana Skukan – Fortis Samobor Croatia
Zita Herczegh – Seiken STKE Hungary
Ana Rošić – FCKKS Serbia
KUMITE
Boys 2012/2011 -30kg
Noa Čić – Feniks Rude Croatia
Oliver Heide – KDK Austria
Aba Bator Kovacs – Sarospataki SE Hungary
Benjamin Hauser – Kenbukai Italy
Boys 2012/2011 +40kg
Leonard Štajnkler – Feniks Rude Croatia
Roko Drešar – Feniks Rude Croatia
Girls 2012/2011 -30kg
Linda Jančović – Oyama Dojo Gabčikovo Slovakia
Leona Sitta – Feniks Rude Croatia
Gal Nora Vivien – Sarospataki SE Hungary
Boys 2010/2009 -35kg
Levente Furko – Kisujszallasi SE Hungary
Laszlo Bene – Warriors Team Hungary
Zente Garamszegi – Warriors Team Hungary
Helios Muizebelt – KDK Austria
Boys 2010/2009 -45kg
Botond Biro – Akaryu Dojo Hungary
Luka Hasanagić – Feniks Rude Croatia
Maxim Murn – Kempo Arnis Slovenia
Bennet Stahlheber – Kenbukai Italy
Boys 2010/2009 +45kg
Lan Kincl Skube – Kempo Arnis Slovenia
Luka Marinčić – Domenica Sveta Nedelja Croatia
Karlo Drakšić – Mas. Oyama Zagreb Croatia
Thomas Tomašković – Feniks Rude Croatia
Girls 2010/2009 -30kg
Lana Miloševič – Kyokushin-Kan Serbia
Laura Garašić – Mas. Oyama Zagreb Croatia
Lana Marić – Fortis Samobor Croatia
Girls 2010/2009 -40kg
Eva Podkrižnik – Kempo Arnis Slovenia
Kata Szokonya – Warriors Team Hungary
Alja Pajk – Kempo Arnis Slovenia
Kyra Marković – Kempo Arnis Slovenia
Boys 2008/2007 -40kg
Tamas Grob – Seiken STKE Hungary
Zsombor Szabo – Warriors Team Hungary
Bartosz Nazim – IBK Poland
Kornel Ceglinski – Wyciszkiewicz Dojo Poland
Boys 2008/2007 -50kg
Peter Antal – Akaryu Dojo Hungary
Oleksandr Rohovyi – AKKA Ukraine
Adam Bednarczyk – Wyciszkiewicz Dojo Poland
Niko Stojanović – Domenica Sveta Nedelja Croatia
Boys 2008/2007 +50kg
Bruno Kolar – Mas. Oyama Strmec Croatia
Balogh Csaba – Marossy Dojo Hungary
Mikolaj Mizerski – KDK Austria
Girls 2008/2007 -35kg
Alicja Sala – Wyciszkiewicz Dojo Poland
Julia Pobidel – Wyciszkiewicz Dojo Poland
Natalie Wang – KDK Austria
Girls 2008/2007 -45kg
Laura Jančović – Oyama Dojo Gabčikovo Slovakia
Ira Trontelj – Kempo Arnis Slovenia
Elena Ladović – Mladost Suhopolje Croatia
Simena Moos – IFK Switzerland
Girls 2008/2007 +45kg
Viktoria Štefović – Fortis Samobor Croatia
Doris Zuparić – Kempo Arnis Slovenia
Boys 2006/2005 -50kg
Igor Kijak – Wyciszkiewicz Dojo Poland
Daniil Kurnet – UKKA Ukraine
Sandro Kuster – IFK Switzerland
Gal Csaba Patrik – Sarospataki SE Hungary
Boys 2006/2005 -60kg
Balazs Turcsanyi – Satoraljaujhely Hungary
Alen Ćosić – Domenica Sveta Nedelja Croatia
Matic Potočnik – DBV Bushido Slovenia
Sergej Gvadjeva – Kempo Arnis Slovenia
Boys 2006/2005 +60kg
Pawel Grobelny – IBK Poland
Mark Radovičević – Kempo Arnis Slovenia
Borna Ivančić – Mas. Oyama Zagreb Croatia
Nick Muller – IFK Switzerland
Girls 2006/2005 -40kg
Angela Egil – IFK Switzerland
Tea Hren Pavlin – Kempo Arnis Slovenia
Girls 2006/2005 -50kg
Virag Kocsic – Seiken STKE Hungary
Nika Kincl Skube – Kempo Arnis Slovenia
Viktoria Klemenčić – Domenica Sveta Nedelja Croatia
Sara Vidak – Domenica Sveta Nedelja Croatia
Girls 2006/2005 +50kg
Evie van der Burgh – F en F Netherland
Sara Antal – Akaryu Dojo Hungary
Lara Krašovec – Kempo Arnis Slovenia
Lara Mijatov – Kempo Arnis Slovenia
Boys 2004/2003 -60kg
Oleksii Krasylnikov – UKKA Ukraine
Oleksii Stadnik – UKKA Ukraine
Jelle van Ee – F en F Netherland
Dorijan Škiljan – Feniks Rude Croatia
Girls 2004/2003 -55kg
Alexandra Kovacs – Fighter SE Hungary
Sofija Jelovac – FCKKS Serbia
Girls 2004/2003 +55kg
Andrea Milošević – Kyokushin-Kan Serbia
Nika Šemeš – Domenica Sveta Nedelja Croatia
Kamila Nalberska – Wyciszkiewicz Dojo Poland
Lea Bišćan – Bregana DIV Croatia
Boys 2002/2001 -65kg
Miklos Maj – Seiken STKE Hungary
Bence Szabo – Sarospataki SE Hungary
Jakub Dwojak – Wyciszkiewicz Dojo Poland
Boys 2002/2001 -75kg
Mate Liptak Gallo – Horvath Dojo Hungary
Josip Novosel – TNT Samobor Croatia
Zalan Turcsanyi – Satoraljaujhely Hungary
Max Norsky – IFK Switzerland
Boys 2002/2001 +75kg
Asif Haidary – MTV Minhen Germany
Nik Radovičević – Kempo Arnis Slovenia
Bruno Stojanović – Domenica Sveta Nedelja Croatia
Aron Kovacs – Sarospataki SE Hungary
Girls 2002/2001 +60kg
Boglarka Lucsan – Seiken STKE Hungary
Daria Kuszak – IBK Poland
Man 2000/1999 -70kg
Jozsef Arvai – Fighter SE Hungary
Arif Haidary – MTV Minhen Germany
Man 2000/1999 -80kg
Abel Buza – Sarospataki SE Hungary
Marko Ristić – DBV Bushido Slovenia
Man 2000/1999 +80kg
Zoltan Kotuly – OKKKSZK IBK Hungary
Tomislav Božić – Fortis Samobor Croatia
Man "B" 1998> -80kg
Rok Popit – DBV Bushido Slovenia
Fabio Raminelli – Kenbukai Italy
Miloš Žujović – DBV Bushido Slovenia
Man "B" 1998> +80kg
Karlo Belko – Mas. Oyama Zagreb Croatia
Nino Jelnikar – Kempo Arnis Slovenia
Man "A" 1998> -80kg
Serji Solomonian – KDK Austria
Paul Baidenmann – F en F Netherland
Christian Kronsteiner – Strasshof Austria
Man "A" 1998> +80kg
Lukas Prem – KDK Austrija
Max Bornschle – MTV Minhen Germany
Jorg Vochetzer – MTV Minhen Germany
Matteo Brescanzin – Kenbukai Italy
Woman "A" 1998> -65kg
Julia Lemikh – KDK Austrija
Dora Velmovszki – Sarospataki SE Hungary
Woman "A" 1998> +65kg
Claudia Szerezla – Fighter SE Hungary
Chenge Toth – Warriors Team Hungary