International Open Kyokushin Karate Tournament ''13th Domenica Cup'' was held in organization of Croatian Kyokushinkai Full Contact Karate Association and hosted by I.K.O. Matsushima Kyokushinkaikan Croatia and Kyokushin Karate Club ''Domenica'' Sveta Nedelja.
This tournament celebrated 40 years of Kyokushin in Croatia bring by Sensei Branko Vašinko at 1976.
Sensei Branko was our first teacher and the most important person for development Kyokushin in Croatia in the beginning in clubs in Samobor and Sisak and latter in Zagreb, Dugo Selo and Žabno.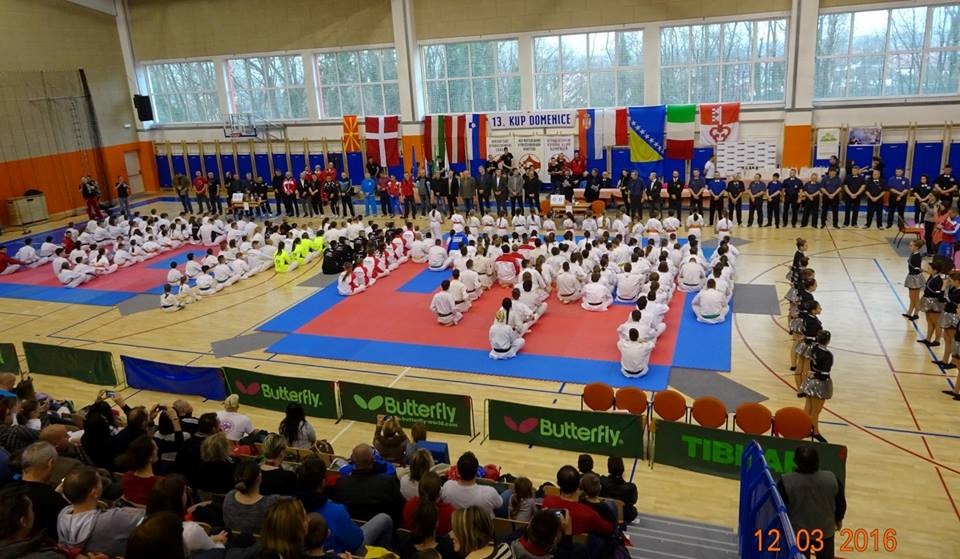 Participated:
41 teams
240 competitors from kids to adults
75 competitors in 8 categories of Kata competition
210 competitors in 30 categories of Kumite competition
9 kyokushin organizations (Honkyokushin, I.B.K., I.F.K., I.K.B.O., Shinkyokushin, Sokyokushin, Kyokushin Kan, W.K.F. and I.K.O. Matsushima) plus competitors from other styles of martial arts
12 countries (France, Italy, Austria, Switzerland, Hungary, Poland, Denmark, Ukraine, Macedonia, Serbia, Bosnia and Herzegovina, Croatia)
The main sponsor was: Zagreb County and Prefect M.Sc. Stjepan Kožić
Sponsors were:
City of Sveta Nedelja
Municipality Krasic
Institute for Emergency Medicine of Zagreb County
Sport Association of the Zagreb County
Zagreb County Tourist Board
Sport Association of the City of Sveta Nedelja
Tourist Board of the City of Sveta Nedelja
Olival d.o.o.
Bieresdorf d.o.o.
AWT d.o.o. (Fructal)
GTP Šoštarić
IKO Matsushima Organization was represented with the teams from 7 countries. Many thanks for their support and participation to:
Shihan Zoltan Orehovszky and Shihan Imre Gyarmati (Hungary) – Shihan Toth Zsolt's branch
Sensei Sergey Doronin (Ukraine) – Shihan Sergey Lukyanchikov's branch
Sensei Franz Rasmussen (Denmark)
Sensei Robert Wyciszkiewicz (Poland)
Sensei Vojkan Bižić (Serbia)
Senpai Kosta Nestorov Ivelić (Macedonia)
Many thanks also to other teams who have done this tournament so good.
See you all on the next ''14th Domenica Cup'' on March 11, 2017!
Video report from the 13. Domenica Cup and announcement for the 14th Domenica Cup you may see on: https://www.youtube.com/watch?v=MkrMAWRQ-nw&feature=share
Result of the 13. Domenica Cup:
KATE
Limači: dječaci 2002. do 2006. godište

Mjesto: Vuk Lalić, Tigar, Honkyokushin Srbija
Mjesto: Armand Balogh, Karcagi SE, Matsushima Mađarska
Mjesto: Mateo Ćosić, Domenica Sveta Nedelja, HKS Hrvatska
Limačice: djevojčice 2009. do 2006. godište

Mjesto: Kinga Leskó, Satoraljaujhely, Matsushima Mađarska
Mjesto: Mila Mihajlović, Tigar, Honkyokushin Srbija
Mjesto: Mmia Čakanić, Domenica Sveta Nedelja, HKS Hrvatska
Kadeti: dječaci 2005. do 2002. godište

Mjesto: László Kalocsai, Satoraljaujhely SE, Matsushima Mađarska
Mjesto: Elia  Marzano, Sokyokushin Italija
Mjesto: Daniel Furdi, Croatia Sisak, HKS Hrvatska
Mjesto: Szymon  Suligowski, Matsushima Poljska
Kadetkinje: djevojčice 2005. do 2002. godište

Mjesto: Klara Prpić, Croatia Sisak, HKS Hrvatska
Mjesto: Serena Tricarico, Sokyokushin Italija
Mjesto: Ana Kukić, Croatia Sisak, HKS Hrvatska
Mjesto: Gabriela  Suša, Fortis Samobor, HKS Hrvatska
Juniori: mladići 2001. do 1998. godište

Mjesto: Tomislav Božić, Fortis Samobor, HKS Hrvatska
Mjesto: Escalera Alejandro, Obwalden, IFK Švicarska
Mjesto: Leibundgut Dima, Obwalden, IFK Švicarska
Mjesto: Abgospon Andreas, Obwalden, IFK Švicarska
Juniorke: djevojke 2001. do 1998. godište

Mjesto: Hofer Jenny, Wohlen, IFK Švicarska
Mjesto: Suter Léane, Wohlen, IFK Švicarska
Mjesto: Andżelika  Magda , Matsushima Poljska
Mjesto: Klaudia Szabó, Karcagi SE, Matsushima Mađarska
Seniori: muškarci 1997. godište i stariji

Mjesto: Franz Rasmussen, Farum, Matsushima Danska
Mjesto: Arslan Baybatirov M, Shinkyokushin Austrija
Mjesto: András Suskó, Satoraljaujhely SE, Matsushima Mađarska
Mjesto: Luciano Centonze, Sokyokushin Italija
Seniorke: žene 1997. godište i starije

Mjesto: Rohrer Fabienne, Obwalden, IFK Švicarska
Mjesto: Ildikó Gyarmati, Karcagi SE, Matsushima Mađarska
KUMITE
Mlađe limačice: rođene 2009./2008. -30kg

Mjesto: Isidora Dušić, Tigar, Honkyokushin Srbija
Mjesto: Anastasija Petrovic, Tornado, Srbija
Mjesto: Lana  Milošević, Crna Mamba, Honkyokushin Srbija
Mlađe limačice: rođene 2009./2008. -40kg

Mjesto: Elena Ladović, Mladost Suhopolje, Hrvatska
Mjesto: Zorica Tanasić, IBK BiH
Stariji limači: rođeni 2007./2006. -35kg

Mjesto: Vito Hrs, Bregana DIV, HKS Hrvatska
Mjesto: Loris Konjuh, Bregana DIV, HKS Hrvatska
Mjesto: Vuk Lalić, Tigar, Honkyokushin Srbija
Mjesto: Kristijan Prpić, Croatia Sisak, HKS Hrvatska
Stariji limači: rođeni 2007./2006. -45kg

Mjesto: David Novosel, Bregana DIV, HKS Hrvatska
Mjesto: Bruno Pavletić, Domenica Sveta Nedelja, HKS Hrvatska
Mjesto: Marijan Marić, Fortis Samobor, HKS Hrvatska
Mjesto: Tin Flegar, Budo Ryu Zaprešić, HKS Hrvatska
Starije limačice: rođene 2007./2006. -40kg

Mjesto: Mila Mihajlović, Tigar, Honkyokushin Srbija
Mjesto: Mia Čakanić, Domenica Sveta Nedelja, HKS Hrvatska
Mjesto: Noémi Kémeri, Karcagi SE, Matsushima Mađarska
Mjesto: Nada Lazarević, IBK BiH
Mlađi kadeti: rođeni 2005./2004. -40kg

Mjesto: Svetislav Mitrović, IBK BiH
Mjesto: Dejan  Rakic, KDK, Kyokushin Kan Austrija
Mjesto: Alex Khirer, Jedaj, Shinkyokushin Mađarska
Mjesto: Rudolf-Gerhard Raffetseder, KDK, Kyokushin Kan Austrija
Mlađi kadeti: rođeni 2005./2004. -50kg

Mjesto: Paulo Hegeduš, Budo Ryu Zaprešić, HKS Hrvatska
Mjesto: József Pék, Pek, Matsushima Mađarska
Mjesto: Borna Ivančić, Mas. Oyama Strmec, HKS Hrvatska
Mjesto: Daniel Furdi, Croatia Sisak, HKS Hrvatska
Mlađi kadeti: rođeni 2005./2004. +50kg

Mjesto: Roko Aralica, Croatia Sisak, HKS Hrvatska
Mjesto: Matej Blažanović, Mas. Oyama Strmec, HKS Hrvatska
Mjesto: Nemanja Lukić, IBK BiH
Mjesto: Strahinja Sekulić, Grbavica, Kyokushin unija BiH
Mlađe kadetkinje: rođene 2005./2004. -35kg

Mjesto: Ljubica Pavić, IBK BiH
Mjesto: Erin Križančić, Croatia Sisak, HKS Hrvatska
Mlađe kadetkinje: rođene 2005./2004. +35kg

Mjesto: Anastasija Stojaković, Crna Mamba, Honkyokushin Srbija
Mjesto: Dajana Stevanović, IBK BiH
Mjesto: Ela Robeli, Budo Ryu Zaprešić, HKS Hrvatska
Mjesto: Lea Bišćan, Bregana DIV, HKS Hrvatska
Mlađe kadetkinje: rođene 2005./2004. -45kg

Mjesto: Anđela Malinović, IBK BiH
Mjesto: Serena Tricarico, Sokyokushin Italija
Mjesto: Gordana Antić, Omladinski centar, Kyokushin unija BiH
Stariji kadeti: rođeni 2003./2002. -50kg

Mjesto: Goran Stanišić, IBK BiH
Mjesto: László Kalocsai, Satoraljaujhely, Matsushima Mađarska
Mjesto: Imam  Baybatirov M, Shinkyokushin Austrija
Mjesto: Levente Magyar, Karcagi SE, Matsushima Mađarska
Stariji kadeti: rođeni 2003./2002. -60kg

Mjesto: Tin Pentek, Mas. Oyama Strmec, HKS Hrvatska
Mjesto: Mitar Majstorović, Grbavica, Kyokushin unija BiH
Mjesto: Darko Simić, IBK BiH
Mjesto: Deni Jechichanov, KDK Kyokushin Kan Austrija
Stariji kadeti: rođeni 2003./2002. +60kg

Mjesto: Josip Novosel, Bregana DIV, HKS Hrvatska
Mjesto: Nikita Ostapets, Matsuahima Ukrajina
Mjesto: Alen Božić, Croatia Sisak, HKS Hrvatska
Mjesto: Jakov Gojak, Focus Strmec, Hrvatska
Starije kadetkinje: rođene 2003./2002. -50kg

Mjesto: Gabriela  Suša, Fortis Samobor, HKS Hrvatska
Mjesto: Ana Kukić, Croatia Sisak, HKS Hrvatska
Mjesto: Martina  Ratković, Croatia Sisak, HKS Hrvatska
Mjesto: Anđela Lalić, Tigar, Honkyokushin Srbija
Starije kadetkinje: rođene 2003./2002. +50kg

Mjesto: Csenge Szakács, Jedaj, Shinkyokushin Mađarska
Mjesto: Klara Prpić, Croatia Sisak, HKS Hrvatska
Mjesto: Andrea Milošević, Crna Mamba, Honkyokushin Srbija
Mjesto: Maja Vrančić, Fortis Samobor, HKS Hrvatska
Mlađi juniori: rođeni 2001./2000. -60kg

Mjesto: Egger Elik, Obwalden, IFK Švicarska
Mjesto: Leibundgut Dima, Obwalden, IFK Švicarska
Mjesto: Borna  Polanšćak, Domenica Sveta Nedelja, HKS Hrvatska
Mjesto: József  Árvai , Cepeli Padavan, Matsushima Mađarska
Mlađi juniori: rođeni 2001./2000. -70kg

Mjesto: Ábel Búza, Satoraljaujhely, Matsushima Mađarska
Mjesto: Josip Vrančić, Mas. Oyama Strmec, HKS Hrvatska
Mjesto: Ante Kolbas, TNT Samobor, HKS Hrvatska
Mjesto: Bruno Stojanović, bregana DIV, HKS Hrvatska
Mlađi juniori: rođeni 2001./2000. +70kg

Mjesto: Tomislav Božić, Fortis Samobor, HKS Hrvatska
Mjesto: Danijel Perić, Omladinski centar, Kyokushin unija BiH
Mjesto: Lazar Milošević, Crna Mamba, Honkyokushin Srbija
Mjesto: Patrik Rapp, Mas. Oyama Strmec, HKS Hrvatska
Mlađe juniorke: rođene 2001./2000. -55kg

Mjesto: Michel Lea Maria, Obwalden, IFK Švicarska
Mjesto: Olga  Wietrak , Matsushima Poljska
Mjesto: Anderhalden Nina, Obwalden, IFK Švicarska
Mlađe juniorke: rođene 2001./2000. +55kg

Mjesto: Aleksandra Mitrović, IBK BiH
Mjesto: Đurđina Alimpić, Crna Mamba, Honkyokushin Srbija
Stariji juniori: rođeni 1999./1998. -65kg

Mjesto: Tin Janko Stanić, Fortis Samobor, HKS Hrvatska
Mjesto: Mateo Raič, Domenica Sveta Nedelja, HKS Hrvatska
Mjesto: Ettlin Cyrill, Obwalden, IFK Švicarska
Mjesto: Magomed  Batariev, Shinkyokushin Austrija
Stariji juniori: rođeni 1999./1998. -75kg

Mjesto: Erik Szólya, Sarospataki, Matsushima Mađarska
Mjesto: Erik Takacs, KWF Mađarska
Mjesto: Escalera Alejandro, Obwalden, IFK Švicarska
Mjesto: Jakub Wyciszkiewicz, Matsushima Poljska
Stariji juniori: rođeni 1999./1998. +75kg

Mjesto: Ivan Turčin, Domenica Sveta Nedelja, HKS Hrvatska
Mjesto: Márk Ignéczi, Satoraljaujhely, Matsushima Mađarska
Mjesto: Rocco Antonino, Shinkyokushin Italija
Mjesto: Stipo Rašić, Fortis Samobor, HKS Hrvatska
Stariji juniorke: rođene 1999./1998. -60kg

Mjesto: Dóra Velmovszki, Satoraljaujhely, Matsushima Mađarska
Mjesto: Martina Mikulić, Mas. Oyama Strmec, HKS Hrvatska
Mjesto: Suter Léane, Wohlen, IFK Švicarska
Stariji juniorke: rođene 1999./1998. +60kg

Mjesto: Maria  Ozheredova, Shinkyokushin Austrija
Mjesto: Bianka  Tajti, Jedaj, Shinkyokushin Mađarska
Mjesto: Csenge Tóth, Jedaj, Shinkyokushin Mađarska
Seniori: rođeni 1997. i ranije -70kg

Mjesto: Serji Solomoniani, KDK, Kyokushin Kan Austrija
Mjesto: Stahel Florian, Anglikon, IFK Švicarska
Mjesto: Mirko Zocco, Sokyokushin Italija
Mjesto: Antonio Ivkovčić, TNT Samobor, HKS Hrvatska
Seniori: rođeni 1997. i ranije -80kg

Mjesto: Dejan Obranić, TNT Samobor, HKS Hrvatska
Mjesto: Lovro Mihelić, Fortis Samobor, HKS Hrvatska
Mjesto: Filip Češnjak, Bregana DIV, HKS Hrvatska
Mjesto: Jafar Amiri, KDK, Kyokushin Kan Austrija
Seniori: rođeni 1997. i ranije +80kg

Mjesto: Emanuel  Lebo, KDK, Kyokushin Kan Austrija
Mjesto: Krunoslav Zlodi, Bregana DIV, HKS Hrvatska
Mjesto: Campana Stefano, Anglikon, IFK Švicarska
Mjesto: Lari Šare,  IKBO Francuska
Seniorke: rođene 1997. i ranije -65kg

Mjesto: Alexandra Pecinka, KDK, Kyokushin Kan Austrija
Mjesto: Csenge Szereny, KWF Mađarska
Mjesto: Rohrer Fabienne, Obwalden, IFK Švicarska
Seniorke: rođene 1997. i ranije +65kg

Mjesto: Felber Angela, Anglikon, IFK Švicarska
Mjesto: Kristina  Kojundžić, Fight Team Zagreb, Hrvatska
Mjesto: Anett  Kemény, Karcagi SE, Matsushima Mađarska
Mjesto: Jelena Vrančić, Mas. Oyama Strmec, HKS Hrvatska