International open Kyokushin Karate Tournament ''9th Domenica Cup 2012'' was held in Samobor on 25th of March, 2012 in organization of Croatian Kyokushinkai Union. Host was IKO Matsushima Kyokushinkaikan Croatia and Kyokushin Karate Club ''Domenica'' Sveta Nedelja.
With this event, club ''Domenica'' celebrated 10 years of constitution. 
Photos: opening ceremony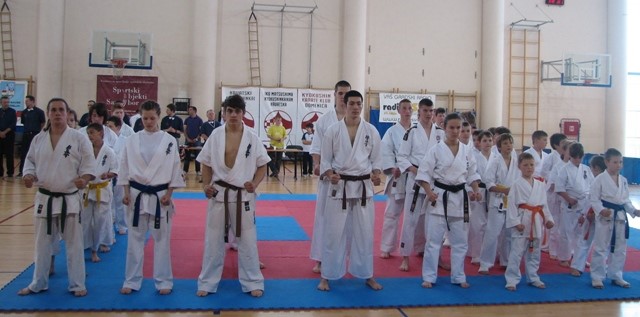 15 teams with 133 competitors from different organizations from Slovenia, Hungary (IKO Matsushima Shihan Borza's Branch), Serbia (IKO Matsushima Sempai Bižić's Branch), Bosnia and Herzegovina and Croatia competed in 16 categories from kids to adults.
IKO Matsushima Hungary was represented with 13 competitors, IKO Matsushima Serbia with 2 and IKO Matsushima Croatia with 42 competitors (26 from Kyokushin Karate Club "Fortis" Samobor and 16 from Kyokushin Karate Club "Domenica" Sveta Nedelja).
Teams on tournament:

Délegyházi Karate SE Marossy Dojo, Hungary – 8 competitors
Sátoraljaujhelyi Kyokushin SE Orehovszky Dojo, Hungary – 4 competitors
Tiszafüredi Kyokushin Karate Club Szany Dojo, Hungary – 1 competitor
Full Contact Kyokushinkai Association Serbia – 2 competitors
IBK Bosnia and Herzegovina – 3 competitors
Društvo borilnih vešćin Bushido, Slovenia – 7 competitors
KK Croatia Sisak – 15 competitors
KBKK Sutinska Vrela Podsused – 1 competitor
KBKK Budo Ryu Zaprešić – 5 competitors
KBKK Mas Oyama Strmec – 27 competitors
KKK Bregana DIV Bregana – 6 competitors
KKK Feniks Rude – 5 competitors
KKK Focus Strmec – 7 competitors
KKK Fortis Samobor – 26 competitors
KKK Domenica Sveta Nedelja – 16 competitors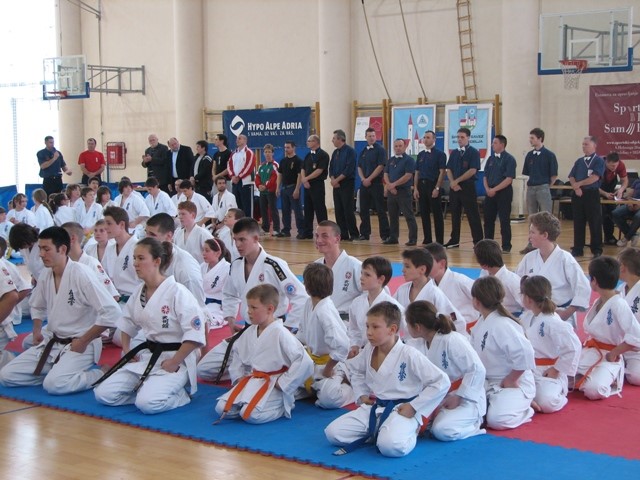 Mr. Drago Plečko, president of the Croatian Kyokushinkai Union and Mr. Drago Prahin, major of the City of Sveta Nedelja, had opening speeches.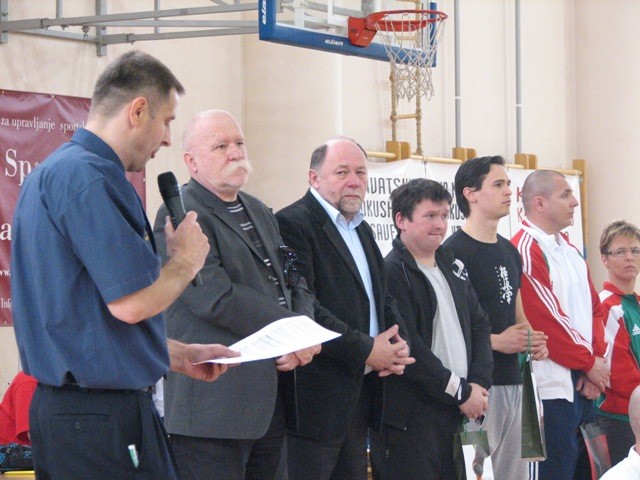 Also, thanks were given to Mr. Drago Prahin, major of the City of Sveta Nedelja and to Cafe bar Domenica.
For the 10th anniversary of the Kyokushin karate club ''Domenica'' thanks were given by the vice president Dražen Živoder to the first president of the club Senpai Eduard Bajić.
Modest gifts were given to Shihan Zoltán Orehovszky from Sátoraljaújhelyi Kyokushin SE, Sensei Karoly Marossy from Délegyháza kyokushin SE, Senpai Attila Szany from Tiszafüredi kyokushin karate club, Senpai Vojkan Bižić from FCKAS – IKO Matsushima, Senpai Stojan Lukić from IBK Bosnia and Herzegovina and to Mr.  Branko Ristić from DBV Bushido.
Following: attractive photos of our fighters (More photos see on our Facebook profile: Karate Kyokushinkai Croatia).
Photo: Leo Bišćan from KKC "Fortis" (right)

Photo: Dora Mlinarić from KKC "Domenica" (left)


Photo: Luka Sekelj from KKC "Fortis" (left)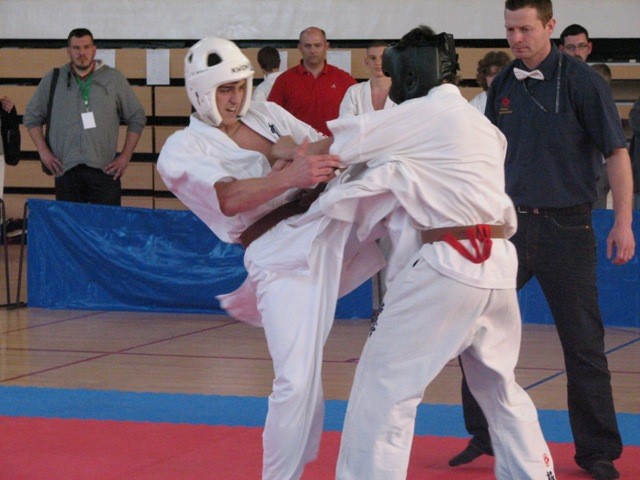 Photo: Ante Bulaja from KKC "Domenica" (right)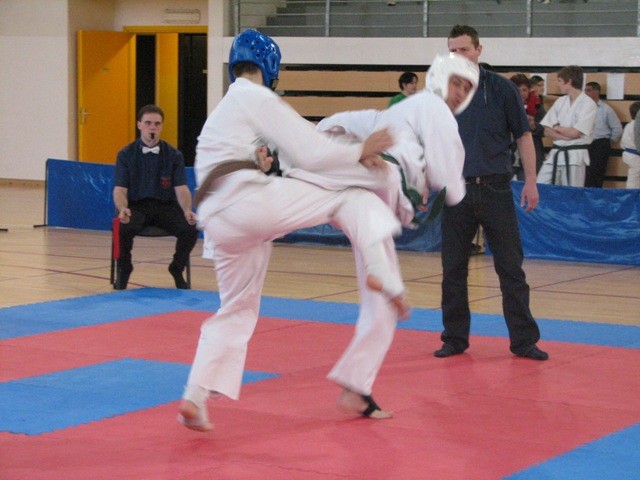 Photo: Jurica Korade from KKC "Fortis" (left)

Photo: Lovro Mihelić from KKC "Fortis" (left)
Photo: Gabriela Suša (1st) and Maja Vrančić (3rd) from KKC "Fortis"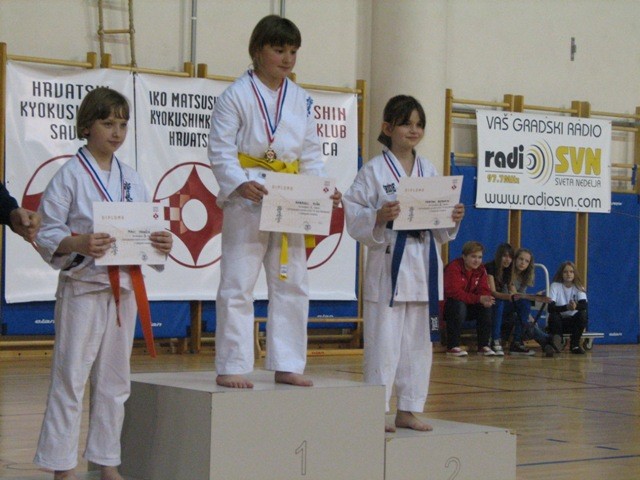 Photo: Tihana Dekanić (2nd) and Marija Puhalo (3rd) from KKC "Domenica" and Ivana Vrančić (4th) from KKC "Fortis"


Photo: Petra Gorišek (2nd), Katarina Razum (3rd) and Kristina Suša (4th) all from KKC "Fortis"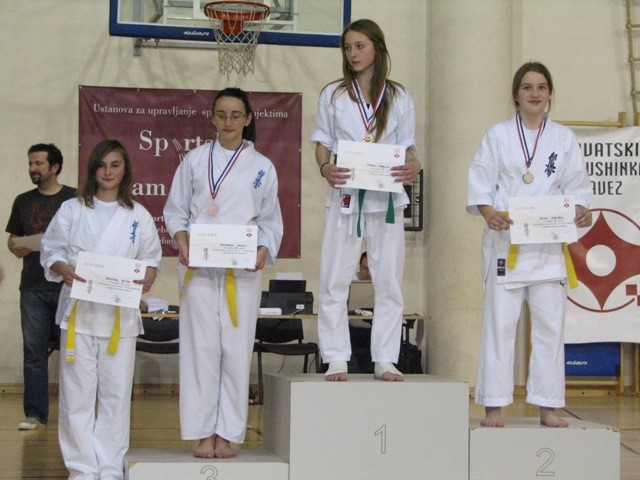 Photo: Dora Mlinarić (1st) from KKC "Domenica"


Photo: Mihael Vidmar (4th) from KKC "Fortis"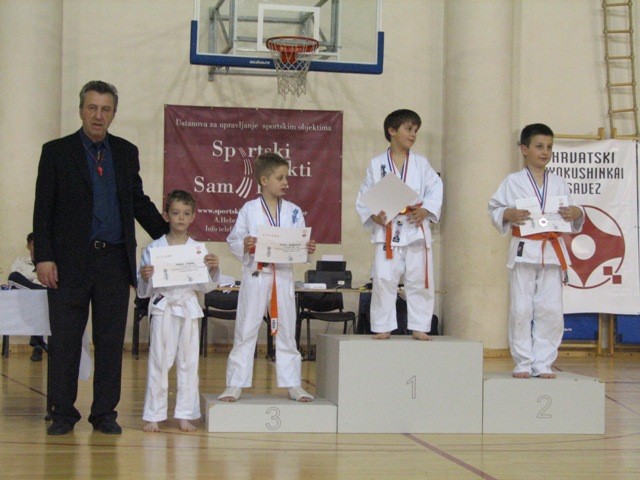 Photo: Dominik Stanić (1st) from KKC "Fortis" and Mihael Jelkovac (3rd) from KKC "Domenica"


Photo: Tomislav Božić (2nd) and Krsto Tomljanović (4th) from KKC "Fortis"

Photo: Stipo Rašić (1st) and Luka Rubinić (2nd) from KKC "Fortis"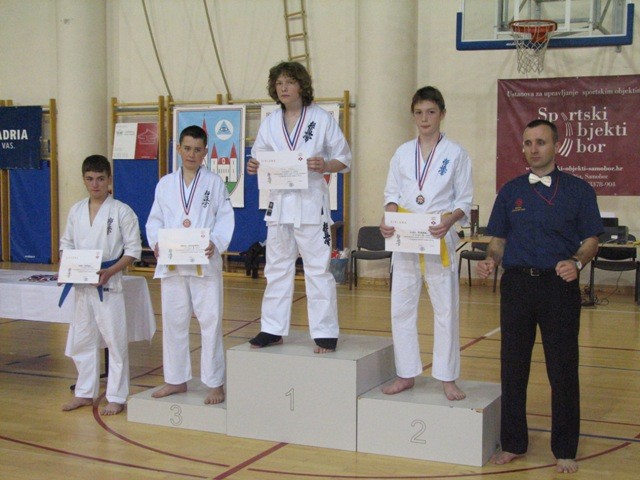 Photo: Ivan Turčin (1st) from KKC "Domenica" and Nikola Rašić (4th) from KKC "Fortis"

Photo: Ante Bulaja (4th) from KKK "Domenica"

Photo: Lovro Mihelić (4th) from KKC "Fortis"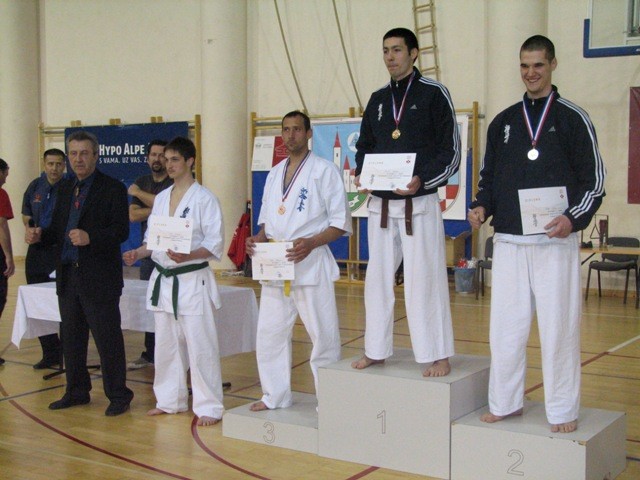 Photos: after the tournaments with medals and diplomas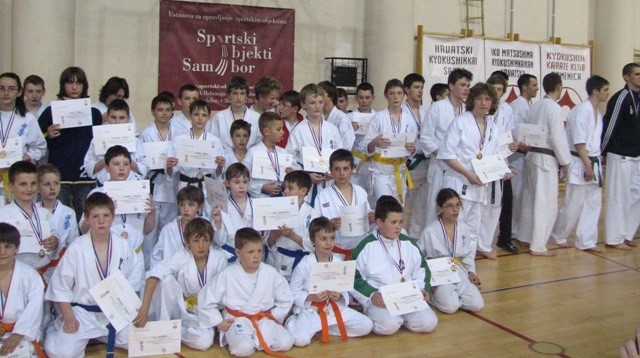 Photo: Competitors of the "Fortis" and "Domenica" after the ''9th Domenica Cup''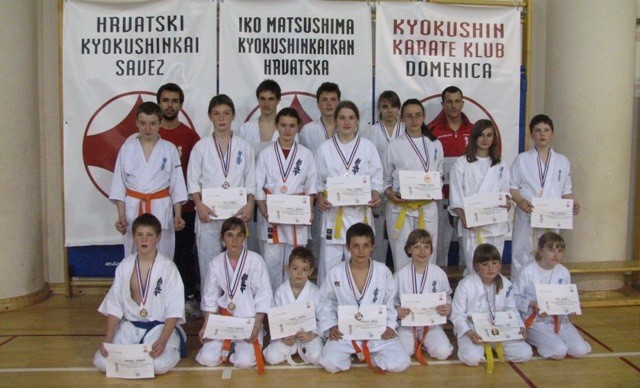 Results of the 9th Domenica Cup:
Kids III boys
1 Duspara Oliver – Mas. Oyama Strmec
2 Filip Kundih Antonio – Mas. Oyama Strmec
3 Blažanović Matej – Mas. Oyama Strmec
4 Vidmar Mihael – Fortis Samobor
Kids II boys -30kg
1 Kestić Dino – Croatia Sisak
2 Hriberski Ian – Focus Strmec
3 Horvatić Filip – Mas. Oyama Strmec
4 Tuk Bruno – Focus Strmec
Kids II boys -40kg
1 Velepec Vid – DBV Bushido Slovenia
2 Tuk Michael – Focus Strmec
3 Hegeduš Franko – Budo Ryu Zaprešić
4 Pentek Tin – Mas. Oyama Strmec
Kids II boys +40kg
1 Stanić Dominik – Fortis Samobor
2 Vlašić Dino – Mas. Oyama Strmec
3 Jelkovac Mihael – Domenica Sveta Nedelja
4 Demerac Tomislav – Focus Strmec
Kids I boys -45kg
1 Rapp Patrik – Mas. Oyama Strmec
2 Banko Domen – DBV Bushido Slovenia
3 Ristić Marko – DBV Bushido Slovenia
4 Perišić Patrik – Mas. Oyama Strmec
Kids I boys +45kg
1 Mészáros Krisztián – Délegyháza Kyokushin SE Hungary
2 Božić Tomislav – Fortis Samobor
3 Vrančić Josip – Mas. Oyama Strmec
4 Tomljanović Krsto – Fortis Samobor
Adolescent boys -50 kg
1 Dinon Dominik – Feniks Rude
2 Čengić Luka – Mas.Oyama Strmec
3 Kispeti Tamás – Délegyháza Kyokushin SE Hungary
4 Martić Dominik – Croatia Sisak
Adolescent boys -65 kg
1 Rašić Stipo – Fortis Samobor
2 Rubinić Luka – Fortis Samobor
3 Lehpamer Adam – Feniks Rude
4 Drešar Lovro – Feniks Rude
Adolescent boys +65 kg
1 Turčin Ivan Domenica – Sveta Nedelja
2 Ivančić Domagoj – Mas. Oyama Strmec
3 Tordai Attila – Délegyháza Kyokushin SE Hungary
4 Rašić Nikola – Fortis Samobor
Junior boys -70 kg
1 Velmovszky Máté – Sátoraljaújhelyi Kyokushin SE Hungary
2 Matijaščić Dino – Bregana DIV Bregana
3 Zoranović Branko – IBK Bosnia and Herzegovina
4 Podunavac Filip – Croatia Sisak
Junior boys +70 kg
1 Fabrik Istvan – Sátoraljaújhelyi Kyokushin SE Hungary
2 disqualified competitor
3 Novoselec Tomislav – Mas. Oyama Strmec
4 Bulaja Ante – Domenica Sveta Nedelja
Adult men
1 Kuduz Filip – FCKAS Serbia
2 Lučić Feđa – FCKAS Serbia
3 Prišlin Marko – Bregana DIV Bregana
4 Mihelić Lovro – Fortis Samobor
Kids II girls
1 Suša Gabriela – Fortis Samobor
2 Ratković Martina – Croatia Sisak
3 Vrančić Maja – Fortis Samobor
4 Frkin Ena – Fortis Samobor
Kids I girls
1 Strižić Martina – Mas. Oyama Strmec
2 Dekanić Tihana – Domenica Sveta Nedelja
3 Puhalo Marija – Domenica Sveta Nedelja
4 Vrančić Ivana – Fortis Samobor
Adolescent girls
1 Frklić Marija – Mas. Oyama Strmec
2 Gorišek Petra – Fortis Samobor
3 Razum Katarina – Fortis Samobor
4 Suša Kristina – Fortis Samobor
Junior girls
1 Mlinarić Dora – Domenica Sveta Nedelja
2 Vrančić Jelena – Mas. Oyama Strmec
3 Antal Szilvia – Tiszafüredi Kyokushin Karate Club Hungary
4 Novaković Andja – IBK Bosnia and Herzegovina